Development of Internet infrastructure in Ukraine and forming National Information Resources
*)
Yuri KORZH
Global Ukraine CEO
President of Ukraine Online Computer Information Agency
yvk@gu.net
Yuri DEMCHENKO
Senior Adviser, Department of Information System, Global Ukraine
Associate Professor, NTUU "Kiev Polytechnic Institute"
demch@gu.net


---
Content
Internet in Ukraine today
Growth of Hosts number in Ukraine
Hostcount for Ukraine (Source: RIPE Database)
Registered Second Level Domains in .UA zone
Major Ukrainian ISPs and their external links
Ukrainian External Connectivity of major Ukrainian ISPs
General view of regional connectivity in Ukraine
Traffic Analysis and External Links characteristics
Academic and Research Network Development in Ukraine
Forming Professional Internet community in Ukraine
Internet Information Resources development
Development of Internet Market in Ukraine
---
Internet in Ukraine today (http://park.kiev.ua/inet/)
Number of hosts in .UA Domain connected to the Internet

Total number of computers connected to the Internet

> 20,000

> 100,0000

Number of SLDs (.com.ua, .net.ua, gov.ua, org.ua and geographical SLDs)

Number of 3rd level domains

47

1641

Number of Autonomous Systems

29

Total external connectivity

10 Mbps

Internet market in Ukraine (http://uanet.gu.net/)
Total Number of ISPs

Number of ISPs in Kiev
Number of ISPs operating external links

95

Number of Local IP Registries

23
Growth of Hosts number in Ukraine for last 17 months
(Source: RIPE Database)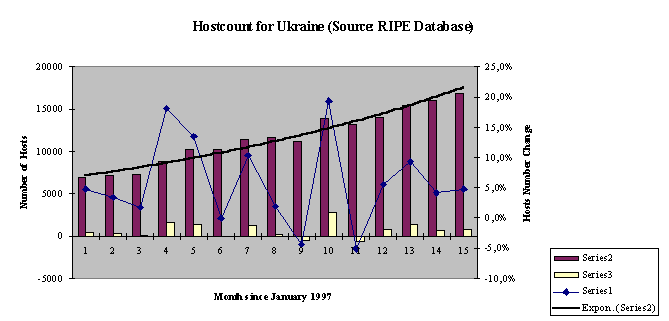 Hostcount for Ukraine (Source: RIPE Database)

1997

1998

Period
01
02
03
04
05
06
07
08
09
10
11
12
01
02
03
04
05
06
REAL

6910

7146

7278

8895

10280

10275

11455

11675

11195

13887

13210

13996

15417

16075

16874

17624

17718

19391

CHANGE

333

236

132

1617

1385

-5

1180

220

-480

2692

-677

786

1421

658

799

750

94

1673

CHANGE, %

4,8%

3,3%

1,8%

18,2%

13,5%

0,0%

10,3%

1,9%

-4,3%

19,4%

-5,1%

5,6%

9,2%

4,1%

4,7%

4,3%

0,5%

8,6%
Registered Second Level Domains
(and number of 3rd level domains in .UA zone) (http://park.kiev.ua/inet/)

Generic SLD

Geographical SLD

com (156)
cherkassy (3)
dp (107)
km (5)
nikolaev (32)
ternopil (6)
gov (24)
chernigov (30)
if (14)
kr (1)
od (9)
uzhgorod (9)
org (6)
chernovtsy (2)
ivano-frankivsk (6)
ks (2)
odessa (73)
vinnica (8)
net (25)
cn (9)
kh (9)
kv (0)
pl (0)
zaporizhzhe (18)
crimea (36)
kharkov (133)
lg (30)
poltava (30)
zhitomir (3)
cv (6)
kherson (14)
lugansk (20)
rovno (3)
zp (19)
dn (88)
khmelnitskiy (5)
lutsk (13)
sebastopol (9)
zt (1)
dnepropetrovsk (107)
kiev (384)
lviv (30)
sumy (12)
donetsk (83)
kirovograd (2)
mk (34)
te (5)
Major Ukrainian ISPs and their external links
---
Internet Service Provider
Connectivity
Connectivity provider
Internal Links in Ukraine
JV Global Ukraine

http://www.gu.net
AS5415

1 Mbps (Satellite)
Digex Ltd., USA
> 30 local ISPs
2 Mbps
MCI, USA
(via UkrTelecom)
1 Mbps
TeleGlobe
(via JV InfoCom)
JV InfoCom

http://www.ukrpack.net
AS6846

2 Mbps (Satellite)
TeleGlobe, Canada
UkrPack X.25/Frame Relay Network
> 20 local ISPs
Lucky Net Ltd.

http://www.lucky.net
AS3254

2 Mbps (Satellite)
Deutsche Telekom
> 20 local ISPs
512 Kbps (Satellite)
Demos Ltd.
LuckyNet Israel (Israel)
256 Kbps
JV InfoCom
Relcom-Ukraine

http://www.relc.com
AS3252

512 Kbps
JV InfoCom
> 15 local ISPs
64 Kbps
UkrTelecom
UkrTelecom

http://www.ukrtel.net
AS6849

2 Mbps
UUNET, London
>10 local ISPs
2 Mbps
MCI, USA
Three other external links are operated by regional commercial and non-profit ISPs
Kharkiv Polytechnic University - 2*28.8 Kbps to MSUNet, Moscow (4LL)

Telematika, Odessa Polytechnic University - 256 Kbps to MCI, USA (Satellite)

UARNET, ICMP, Lviv – 128/256 Kbps to NASK/NORDUNET
Ukrainian External Connectivity of major Ukrainian ISPs
---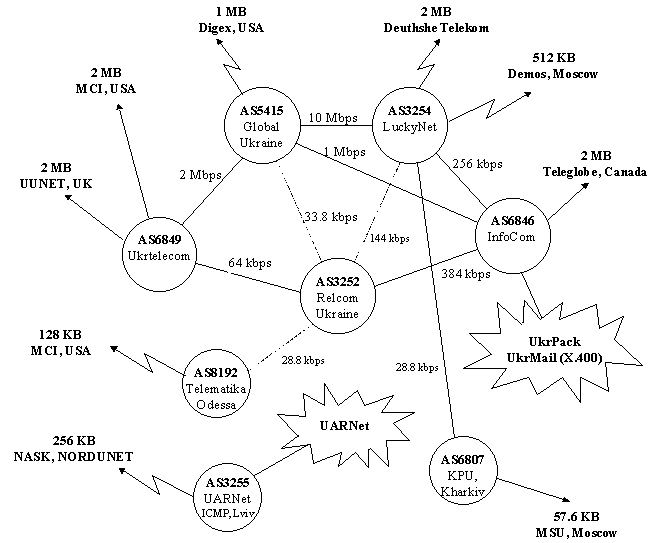 General view of regional connectivity in Ukraine
---
Traffic Analysis and External Links characteristics
---
Traffic analysis through main external links shows highly asymmetrical load of incoming and outgoing channels. Ratio between incoming and outgoing traffic can reach 3-4 times during the day.
The reason is Ukraine's poor Internet information resources, most information is accessed and retrieved from foreign and, particularly, US Internet sites.
In respect of this, many ISPs use asymmetrical external links and asymmetrical routing policy. Common practice supposes using some links only for receiving information via proxy server serving all ISP's user community.
DirectPC and similar technology is becoming popular (projects Lucky Link, Space Gate, etc.)
Problem of local high speed access (because of undeveloped local communication infrastructure) restrains growth of Internet users.
Typical traffic statistics for Global Ukraine links is shown on screen shot (http://noc.gu.net/mrtg/).
Academic and Research Network Development in Ukraine
---
Building of Academic and Research Network in Ukraine meets a number of problems
There is not state funding of A&R network development in Ukraine
At the initial stage some project on building components of A&R network were funded in the frame of International projects and grants (ISF Soros Foundation, TACIS, INTAS, UNDP, PHARE Project under RARE/TERENA activity etc.)
During 1994-1997 Kiev IP Backbone for Universities and Research Institutes in Kiev have been built in the frame of ISF Soros Foundation Internet Program connecting now 4 nodes located in different regions of Kiev (http://www.isf.kiev.ua/)
Recently started NATO Networking project "Ukrainian Research and Academic Network, Part One (URAN-1)" will provide money for creating backbone of Ukrainian Universities network.
Universities with full Internet connectivity - regional centers of building A&R Network:
Effective schemes of cooperation and involvement of commercial companies in A&R Network building should be found.
Commercial ISPs intends to cooperate with Universities in development and promotion of new Internet technologies and creation of national Information Resources.
Good example is cooperation between Global Ukraine and CAD Department of Kiev Polytechnic Institute in Internet Training and User Support as well as in development of Public Information Resources (http://cad.ntu-kpi.kiev.ua/).
Forming Professional Internet community in Ukraine
---
After the period of intensive implementation of new Internet technologies Ukrainian professional community became ready to participate in activity of correspondent international professional groups and technical committees:
TERENA WG dealing with Internationalization problems (WG-MSG, WG-i18n) and User support WG (WG-ISUS, WG-ETINU)
RIPE WG-TLD, WG-LIR and Anti-spam WG
RIPE CENTR Project on establishing Council of European National TLD Registries (CENTR) for registration and administration of national TLDs in countries of RIPE Region
Projects undertaken by Ukrainian specialists and companies
Ukrainian Internet community is on the way to founding independent ISP Association
whose goals will be
to provide common technical policy
operability and interoperability of national networking and information infrastructure
coordination of local activities with international associations, initiatives and programs on Internet technologies
lobbying interests of ISPs through Governmental Bodies.
Internet Information Resources development
---
Importance of development of useful and significant information resources and business implementation of new IT technologies now widely recognized among major ISPs and IT Companies in Ukraine.

Creating public information resources is the first intermediate step for forming Information Society consumer community that will become target for forthcoming EC.
Recent the most important events in formation and development of Information resources and directory services in Ukraine are the following
1996 -- UAHOO! Catalog of WWW Information Resources in Ukraine (Global Ukraine; http://uahoo.gu.net/)

1996 -- Educational WWW Server on Internet and Networking Information Technologies (Kiev Polytechnic Institute; http://cad.ntu-kpi.kiev.ua/)

1997 -- Ukraine Internet Service Providers directory (Global Ukraine; http://uanet.gu.net/)

1997 – Information Technologies Search Server (ElVisti Information Center; http://it-s.visti.net/)

December 1997 -- Search System in Ukrainian Net Resources (ElVisti Information Center; http://el.visti.net/)

January 1998 -- UAvista WWW Search system (Global Ukraine; http://www3.gu.net/dig.html)

February 1998 -- Ukrainian Internet Pavilion - WWW Server on Ukrainian Historical and Cultural Heritage (Kiev Polytechnic Institute, International Renaissance Foundation, Global Ukraine; http://park.kiev.ua/)

March 1998 – Ukrainian WWW resources index system, UARNet, Lviv (http://search.uar.net)

April 1998 – Ukrainian Rating System Ping (http://www.topping.od.ua/)
Development of public information Resources is becoming an area of cooperation between commercial ISP, charitable Foundation and Universities.
Project Ukrainian Internet Pavilion is granted by International Renaissance Foundation, supported by Global Ukraine and performed by Kiev Polytechnic Institute by involving students in creation of WWW information resources through implementing Cooperative and Contributive Learning model in Professional Education in Internet and IT.

http://el.visti.net/

Ukrainian Internet Resources Search System and Catalog (ElVisti Information Center)

Data base with more than 600,000 documents
Catalog with more than 1000 entries


Development of Internet Market in Ukraine
---
Cooperative projects and market policy coordination between leading ISP and Computer companies
Strong demands for information content
Major ISPs have started to build information resource centers providing free hosting for interesting and valuable public information resources
Leading ISPs look for effective technology for end user access to the Internet and extending provided Internet based services
Internet access via Technoligies like DirectPC
Lucky Link - Project undertaken by major Ukrainian ISP LuckyNet (http://www.ll.net.ua/)

15 regional ISPs are connected via Lucky Link Satellite Hub

SpaceGate – Project realised by leading Ukrainian ISP Global Ukraine
Local high speed access to Internet via wideband Cable TV Network
Project is realised by Global Ukraine and covers one region in Kiev
Internet Telephony – Project recently have been brought to operation by Global Ukraine
From Electronic Communications to Electronic Commerce

General move of leading ISP and IT Companies.

Main players/participating Companies

INT Company
Global Ukraine
Kvazar-Micro

Real Problems

Absent of Legal Basis
Poor Communication infrastructure
Banking System is not ready for EC


Founding Electronic Commerce Association is under discussion.

First Internet shop
(http://www.int-commerce.com/)

Established by INT in the frame of Pilot Project with participation of a number of Ukrainian Banks
Company's Certification Center (CA).
---

*) Disclaimer.
This the poster have been presented at Poster Session at INET'98, Palexpo, Geneva, Switzerland, July 20-24, 1998.